---
Occasionally a puppy is so nice a breeder hates to part with him or her and wouldn't it be great if that puppy could have its own family but still have the opportunity to contribute to our breeding program? Also, sometimes we share in the purchase of a dog for the same reasons. Pictured here are dogs who are owned in partnership with us at Bluegrass Kennels. These dogs live with their own families and will occasionally contribute to our endeavor to breed a superior conformation dog with a wonderful disposition.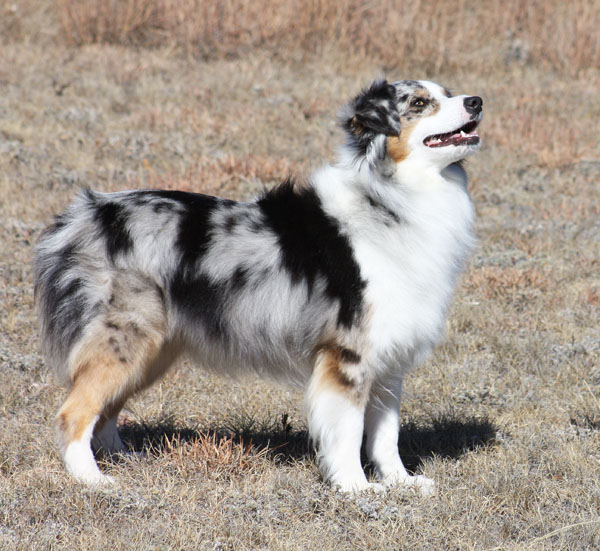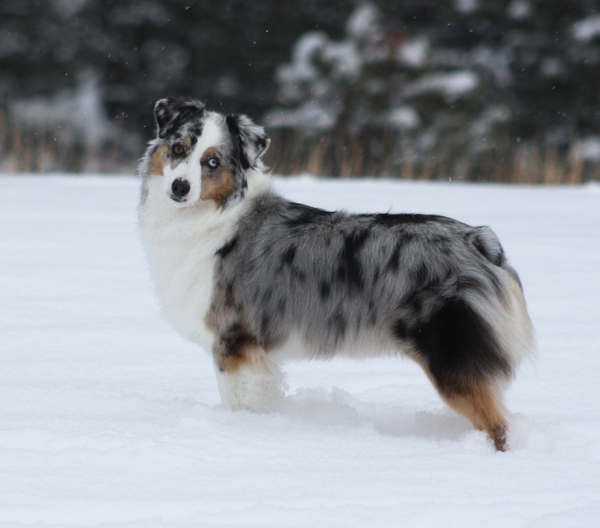 NAME: AKC BRONZE CHAMPION BLUEGRASS OPAL FDC
SIRE: FOLLOW ME AND MAKE SOME MAGIC
DAM: BLUEGRASS LI'L MISS DELTA CARGO
This little girl continues to accumulate accolades. First she earned her AKC Championship and then, quite readily, went on to earn her AKC Bronze Championship. These conformation achievements have been accomplished by the learned and talented hands of Connie and Mike Bleecker of Anoka, MN. OPAL'S Farm Dog title was achieved by our friend Lucinda Schuft. Lucinda's years of experience in all of her varied dog sports continue to amaze us and she and OPAL made a good team in the Farm Dog event. Thank you so much Lucinda and Connie and Mike for allowing OPAL to shine and earn awards. And a huge thank you to Courtney Long in Ontario, CA for sending little OPAL to us as a baby. Stay tuned and watch for OPAL's additional titles and some little puppies in the future. We are co-owning OPAL with Connie Bleecker.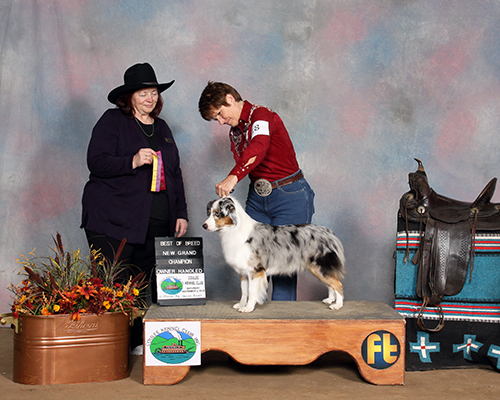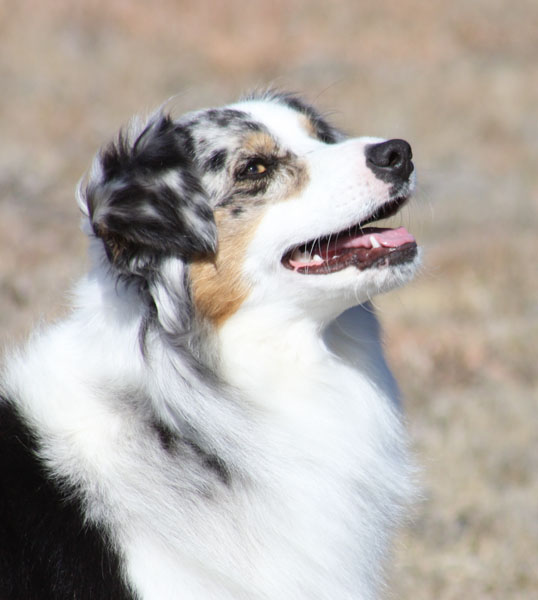 ---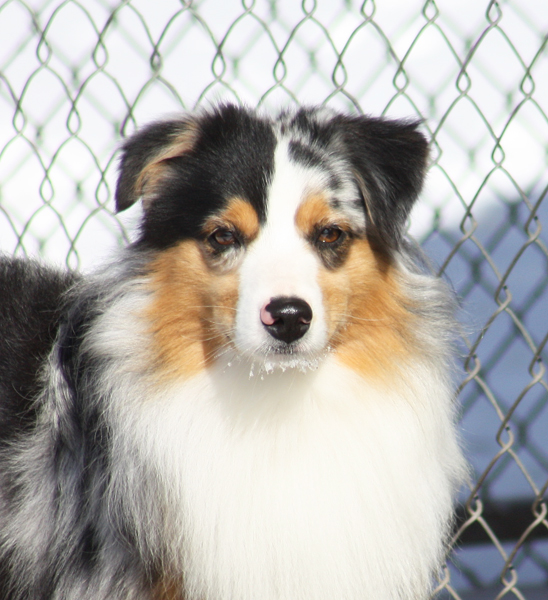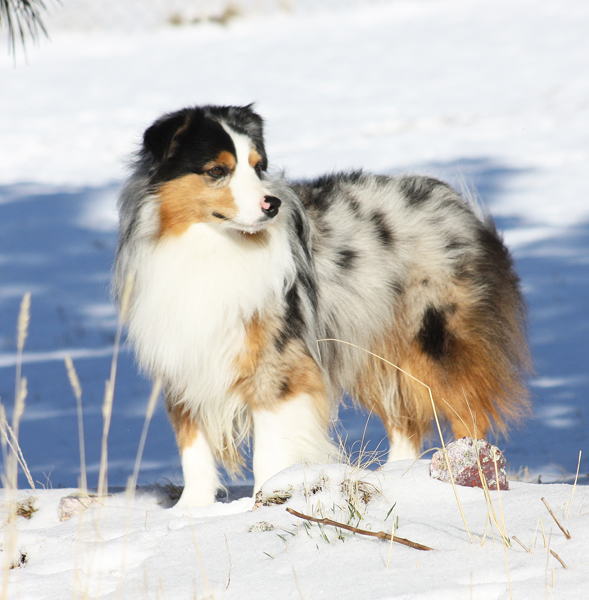 NAME: PATCHWORKS WORLD TRAVELER
SIRE: AKC GRAND CHAMPION PATCHWORKS OUTTA THIS WORLD
DAM: PATCHWORKS CELTIC MELODY
Introducing TRAVELER, a stunning blue merle boy who comes to us from our long time friend Linda Perry at Patchworks Farms in Missouri. Linda was kind enough to let us have one of her special sons of her gorgeous AKC Grand Champion Patchworks Outta This World, or "ET". We are truly grateful to Linda. Traveler is sweet, wonderfully marked, and is a small boy who will help us keep the size of our puppies within our standard. For those familiar with Patchwork's bloodlines, Traveler has Hocus Pocus, Pilot, Daniel and Good Luck Charm up close in his pedigree. We are co-owning Traveler with Heartland Kennels.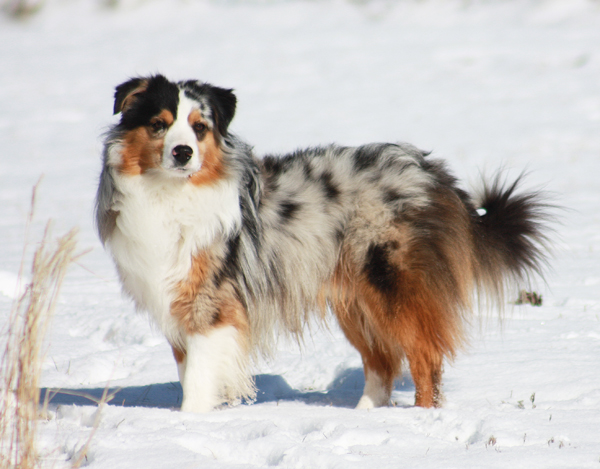 ---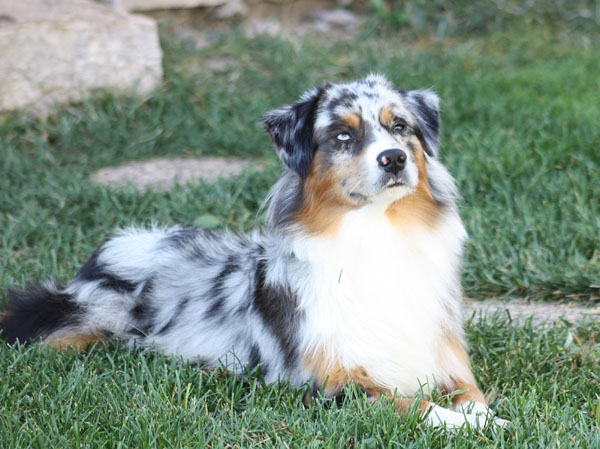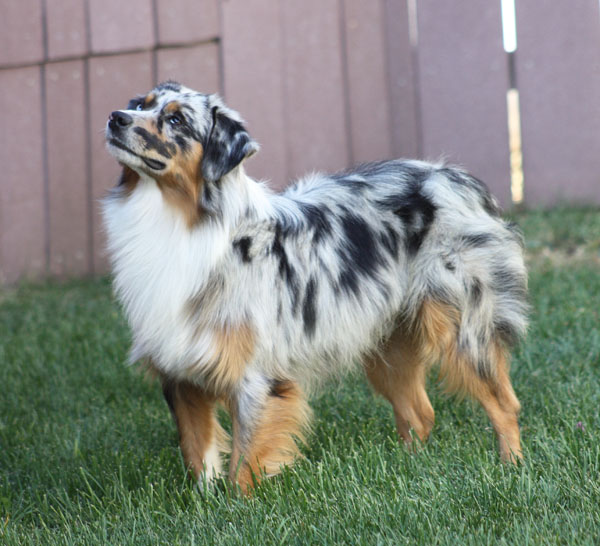 NAME: PATCHWORKS SMILE FOR ME
SIRE: PATCHWORKS PRINCE CHARMING
DAM: PATCHWORKS CHANTILLY LACE
Please meet SMILEY, our stunning new boy from Patchwork Farms at Linda Perry's. Smiley is a young blue boy with a totally goofy and comical attitude and we are enjoying him to the fullest. He quickly fit in with our other dogs and has several best friends here already. His constant wiggling is only out done by his perpetual smiling. It really is a hoot to see! Smiley is clear/normal on all his clearances and is a very nice 16.5" tall. We know he will cross wonderfully with Chatter and others here at BLUEGRASS KENNELS. If you have a nice girl that you would like to cross with SMILEY, please contact us or Karen Oldfather at Heartland Kennels in Nebraska, as we co-own Smiley with her, along with Traveler.