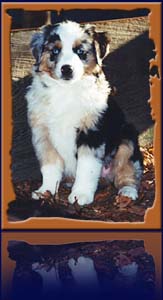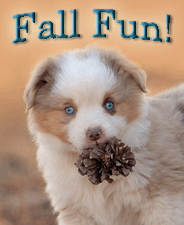 We are celebrating twenty-nine years of breeding
MINIATURE AMERICAN SHEPHERDS
with a view towards excellent temperament, genetic soundness, and beautiful conformation.
WE HAVE MOVED. PLEASE NOTE OUR NEW INFORMATION:
Lynn Gray
lynnsbluegrass@yahoo.com
605-206-4519
Whitewood, South Dakota
WE EXTEND A SINCERE AND HEARTFELT THANK YOU TO ALL OF YOU WHO HAVE OFFERED YOUR HOME TO A BLUEGRASS PUPPY THIS SPRING AND SUMMER. WE APPRECIATE YOU MORE THAN YOU KNOW!!!
WELCOME TO BLUEGRASS KENNELS, home to the MINIATURE AMERICAN SHEPHERDS, newly recognized by the AMERICAN KENNEL CLUB. Miniature Australian Shepherds is our former name, prior to AKC recognition.
Here on our Black Hills ranch in South Dakota we strive to raise healthy, beautiful examples of this marvelous breed and have been doing so for twenty-nine years. From selective and careful breeding we endeavor to offer you show, breeding, working, and/or companion quality puppies that you will enjoy for a lifetime and be proud to own. We offer all colors, a guarantee of a healthy, quality puppy, and a commitment to the MINIATURE AMERICAN SHEPHERD breed and to your satisfaction if you become a customer.

Our goal is for a small, selective breeding program from which our customers may choose their very special puppy. We will strive to help you decide on a puppy who will fit well with your family and who you will cherish for years. Choosing a BLUEGRASS KENNELS MINIATURE AMERICAN SHEPHERD for your family is a long term commitment. Please feel free to call or write or email us and we will be happy to answer questions and possibly help you experience this special breed.