We proudly present a few of the stars who have been born here at Bluegrass Kennels. We wish to congratulate and honor them and their families. We will add dogs and honors as Bluegrass dogs continue to excel. CONGRATULATIONS TO YOU ALL!


We are so delighted to honor and congratulate Lucinda Schuft on her expertise in the show ring with her red girl BLUEGRASS TOPAZ. Her most recent accomplishment is TOPAZ'S AKC Championship, which she earned in just three shows!!! Prior to this TOPAZ has earned her RN (Rally Novice), HIC (herding instinct), TKI (Trick Dog Intermediate), and her FDC (Farm Dog Certification). Lucinda says more titles will surely follow. WOOEEEEE! Way to go, Team, and well done!!! .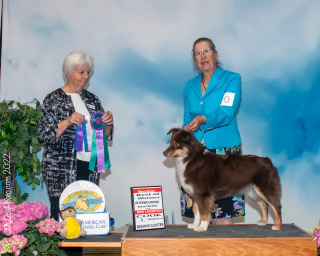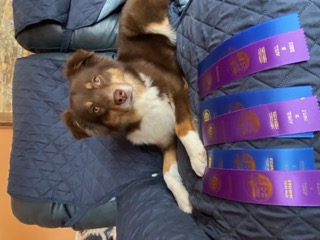 ---

Congratulations to Bluegrass Gallaway for his huge ribbon for Advanced Dock Diving.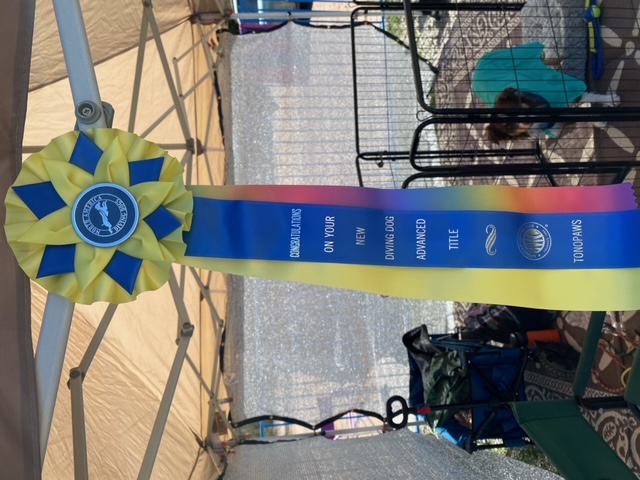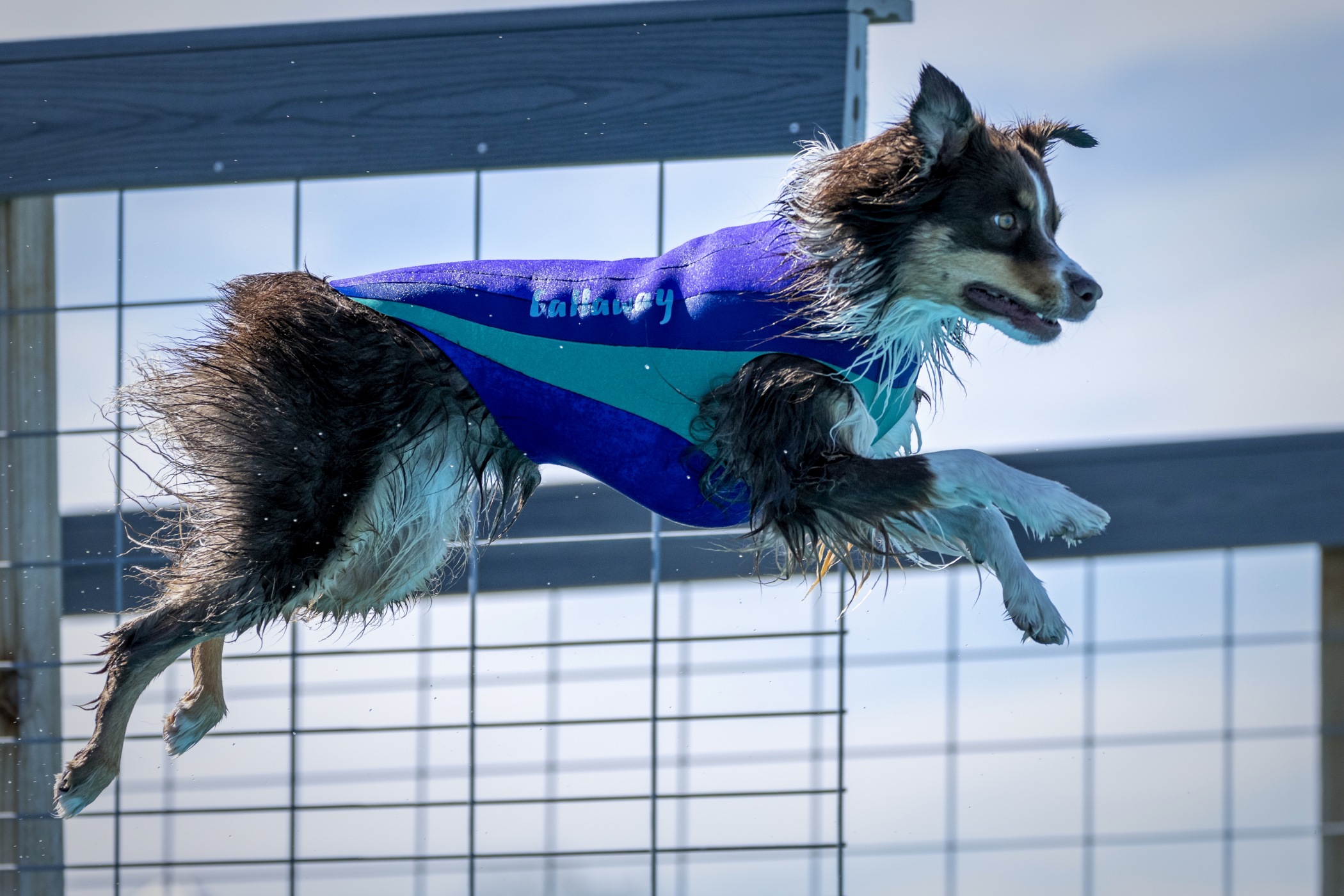 ---

Ginny's and Durango's son GALLAWAY has earned his first title with North American Diving Dogs. GALLAWAY also does obedience and sheep herding. Congratulations to GALLAWAY!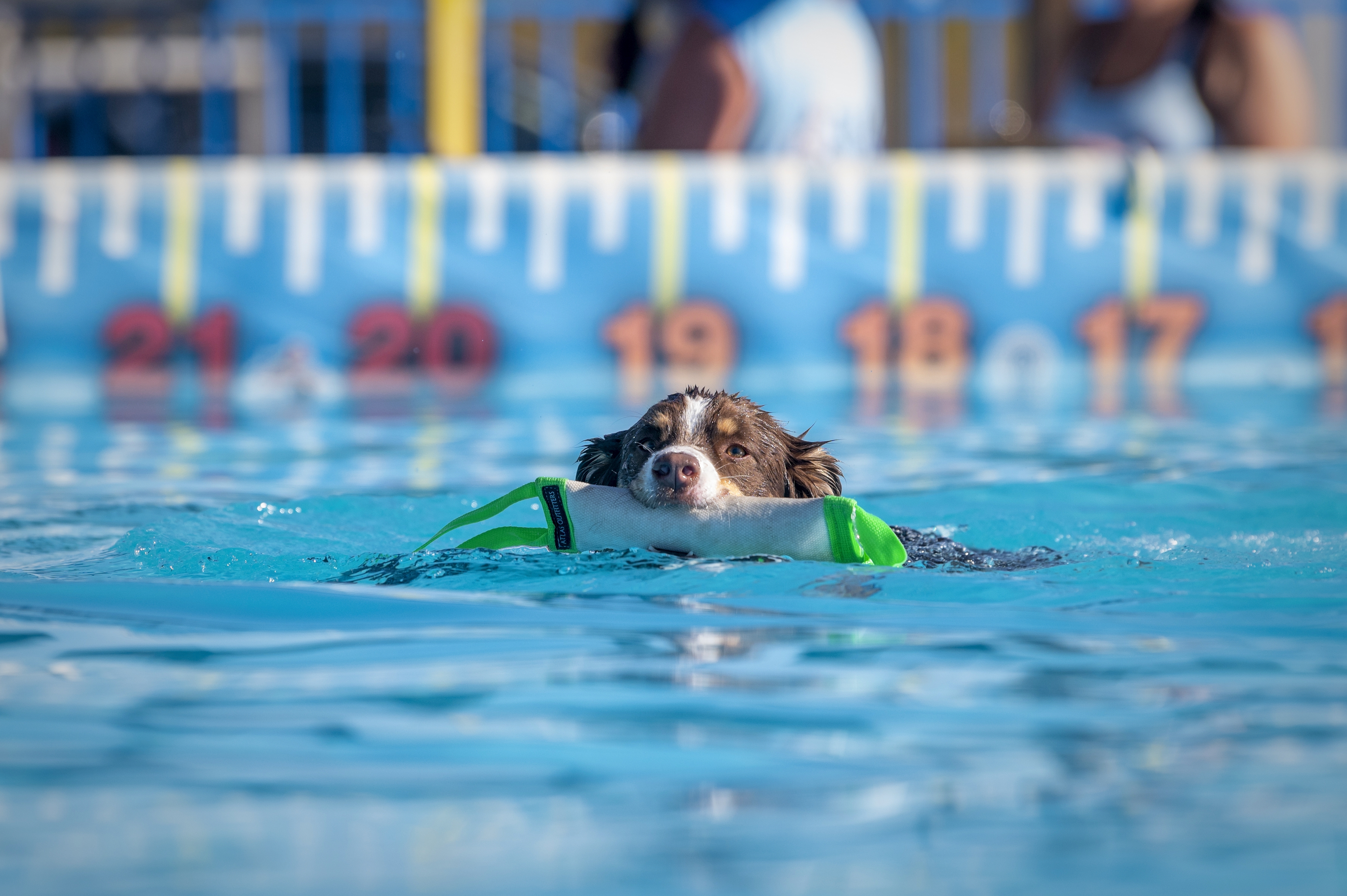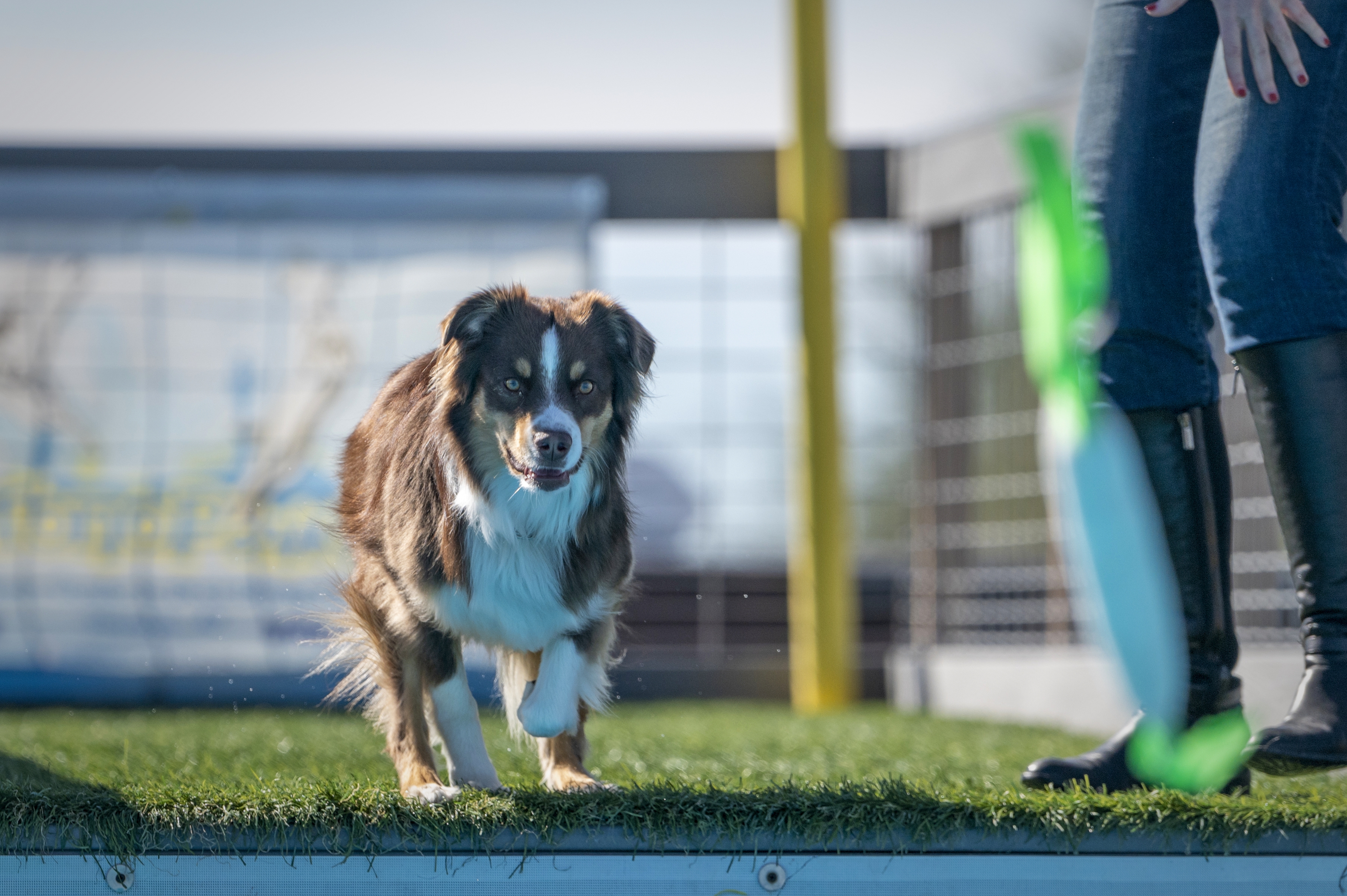 ---

Earning at our National Specialty Show the title first place in the MOST VERSATILE competition pretty much describes not only a nice, correct, and good looking dog, but a dog who has achieved the highest scores in all types of a variety of events. In 2016 this title was earned by Nancy Schmidt's little girl CATCH BLUEGRASS LIL BIT O LOVE CD BN RE AX AXJ OF CGC TKN. These titles translate to: Companion Dog, Beginner Novice, Rally Novice, Rally Advanced, Rally Excellent, Agility Excellent, Agility Excellent Jumpers, Trick Dog Novice, Canine Good Citizen. What an amazing pair Nancy and Lexi are!!!! We are SO very proud of the two of them and wish them continued good luck in whatever they tackle next. BRAVO!!!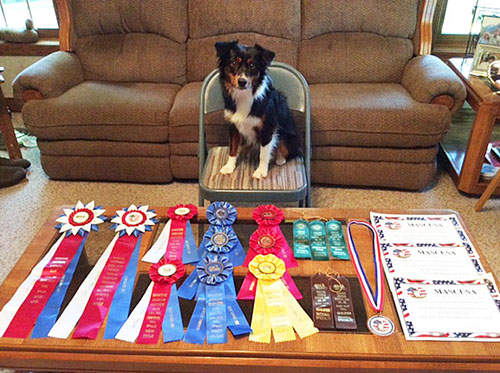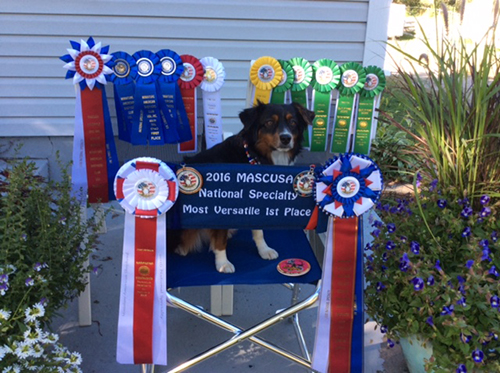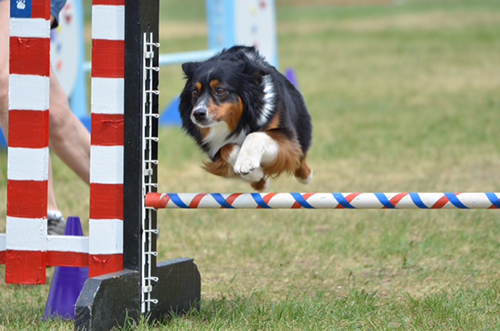 ---

Lynne Ranney is enthusiastic and successful with her dogs in obedience. She continues to advance and excel. Here she is with her BLUEGRASS LET FREEDOM RING who has her AKC Star Puppy Title plus obedience titles.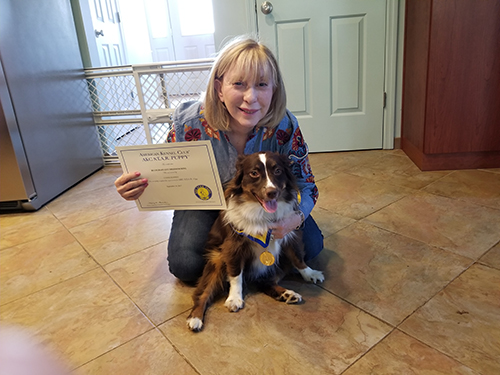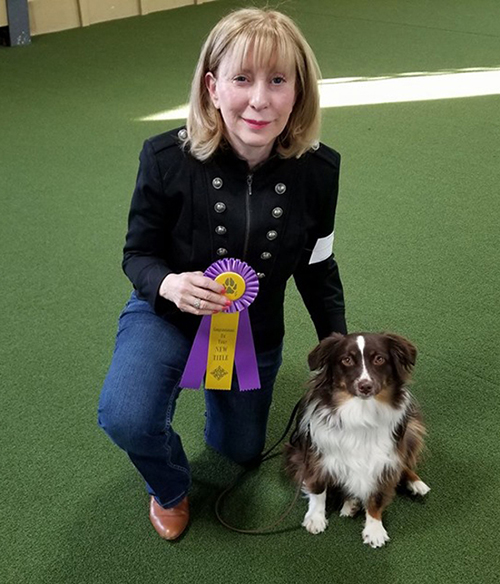 ---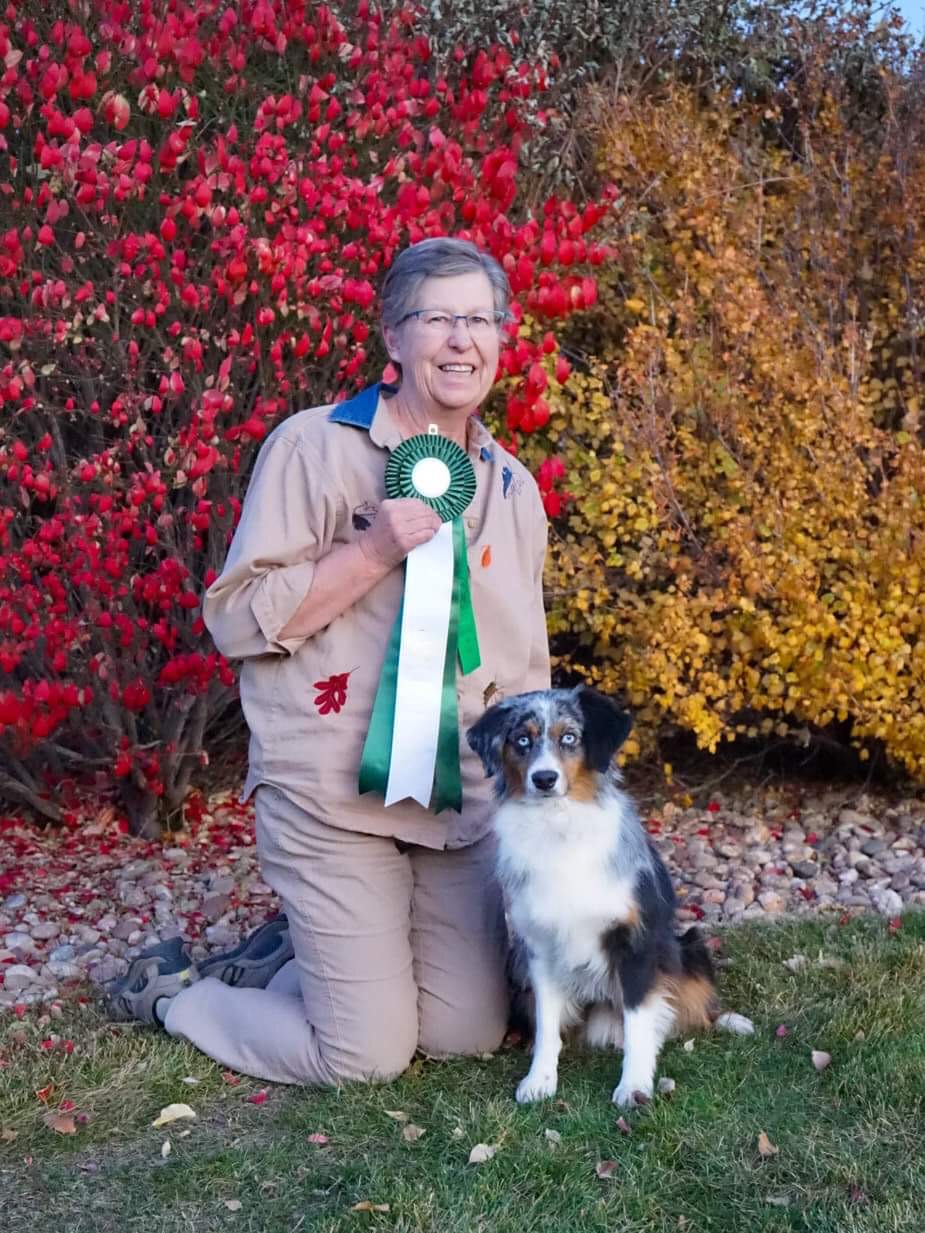 When it was time to retire BLUEGRASS OH-BE-JOYFUL from conformation showing and raising some lovely puppies, our friend Lucinda Schuft was interested in trying her on some dog sports. We agreed that she might really enjoy that. So little JOY, with Lucinda's expertise in training, is not only enjoying some dog sports but has already earned several titles. Now JOY has her CGC, RN, TKN, RATN, FDC, and two NADAC titles which are beginning agility. Congratulations to JOY and Lucinda and thank you for seeing her potential. Our photo is courtesy of Crystal Allison.

---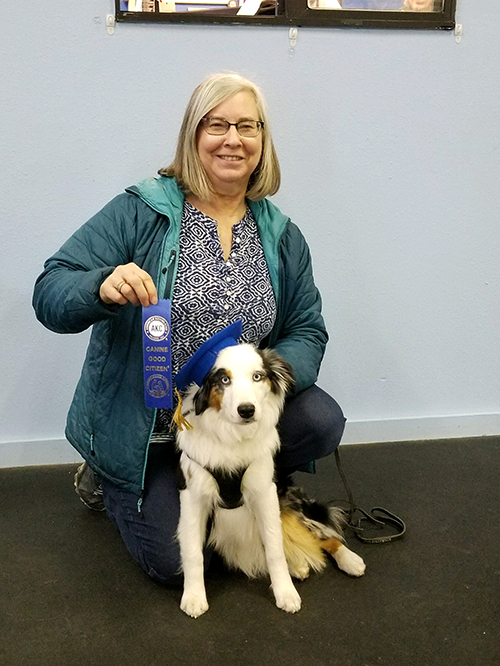 Kathy and John Cline are the proud owners of BLUEGRASS MAC. Here are Kathy and MAC displaying his title as a Canine Good Citizen which he earned as a youngster.

---

Pam and Steve England of NM are involved in herding and conformation both. Here is their Honor and Turbo daughter BLUEGRASS EMMY with her handler Cameron, racking up points towards her AKC Championship. Well done, Cameron and Emmy and keep up the good work!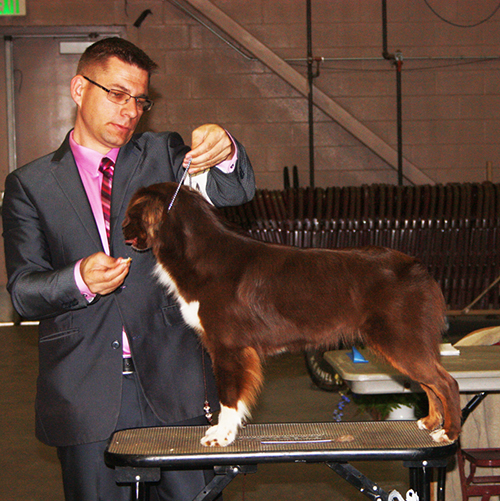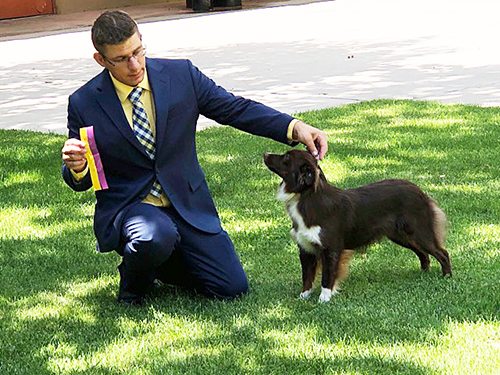 ---

Small in stature but huge in presence and elegance, here is BLUEGRASS SASSAFRAS AT A2Z, nicknamed "ANNA. ANNA'S mom is our beloved Snake River's Turn the Quiet Up (Chatter) and her sire is Michaela Starks' AKC Champion Mockingbirds Rusty Nail (Chase). Connie Bleecker is the happy and proud owner of Anna. In quite limited showing Connie and Mike Bleecker have completed Anna's AKC Championship. We congratulate and thank the Bleeckers for their excellent accomplishment! Give ANNA another treat!!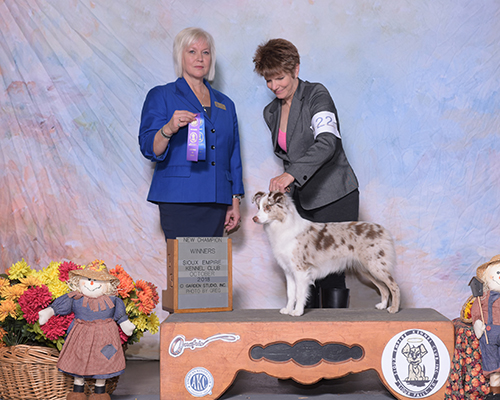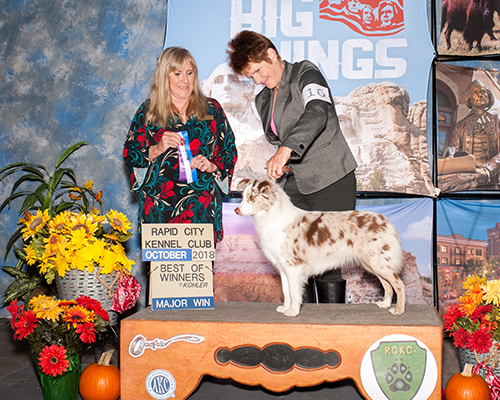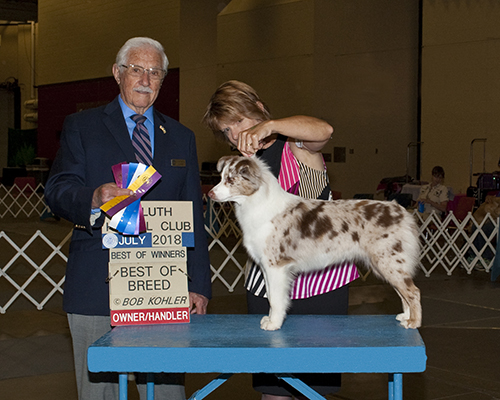 ---

Cindy Duggan and Mary Jane Ross co-own BLUEGRASS JOURNEY ON ROUTE 66, better known as "Charley". He is a much loved member of both owners during different times of the year as he goes back and forth from home to home. he can also be found on the show circuit with his handler Arvind deBraganca. Arvind loves Charley and they have been quite a team, earning Charley's Championship and going on to earn Charley's GRAND CHAMPIONSHIP with some very exciting wins over other Grand Champions of the breed. We extend a huge congratulations to Cindy, Mary Jane, Arvind, Team Passport and Charley!!!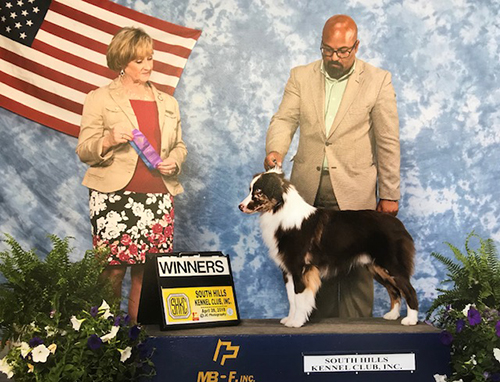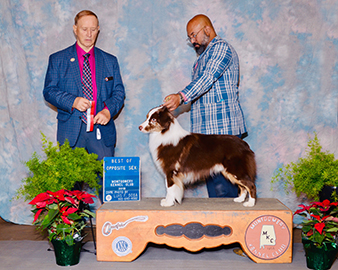 ---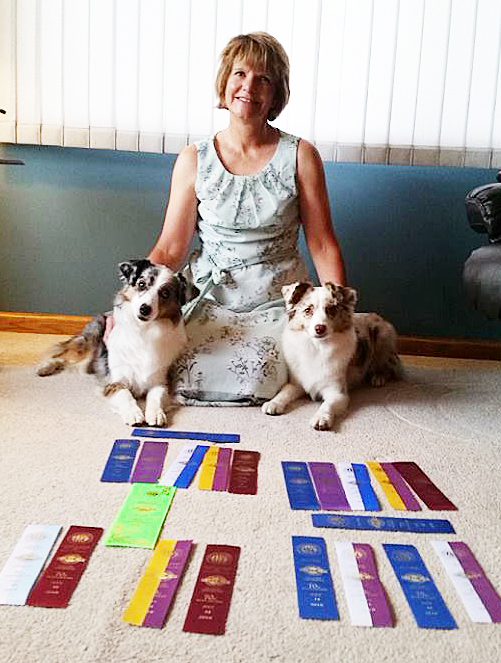 A huge congratulations to Connie and Mike Bleecker of Anoka, MN for completing an AKC BRONZE CHAMPIONSHIP on our little BLUEGRASS OPAL. BLUEGRASS KENNELS and A2Z AUSSIES are co-owning OPAL and enjoying this little venture. BLUEGRASS OPAL was bred by Courtney Long of Ontario, CA. OPAL'S dam is BLUEGRASS LI'L MISS DELTA CARGO and her sire is FOLLOW ME N MAKE SOME MAGIC. OPAL has spent this Spring and Summer with Connie catching the eyes of her judges and showing better and better with Connie's expert teaching, care, and guidance. We are especially grateful to both Connie and Mike for their help with OPAL.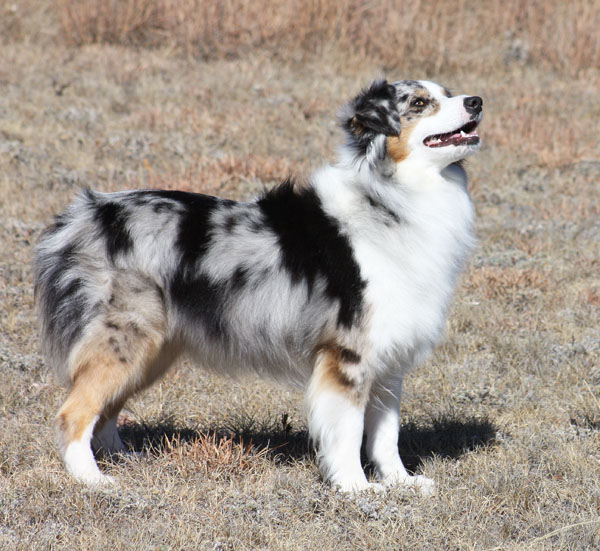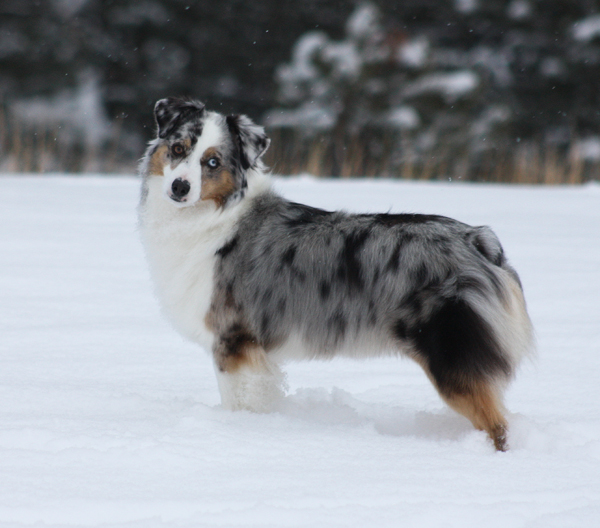 ---

Michaela Starks of Husker Heart Kennels in Omaha, Nebraska made a terrific choice when she chose BLUEGRASS ENCORE II OF HUSKER HEART from our litter from SNAKE RIVER'S TURN THE QUIET UP (CHATTER). She calls him ONI and he is sired by Michaela's beautiful boy AKC Champion MOCKINGBIRD'S RUSTY NAIL (CHASE). Michaela introduced Oni to the show ring as soon as he was old enough and in just a few months he had his AKC Championship!! Shortly after Michaela and Oni got their Championship they went on to earn his GRAND CHAMPIONSHIP!!! Woo Hoo for Michaela and Oni. You both have done a terrific job.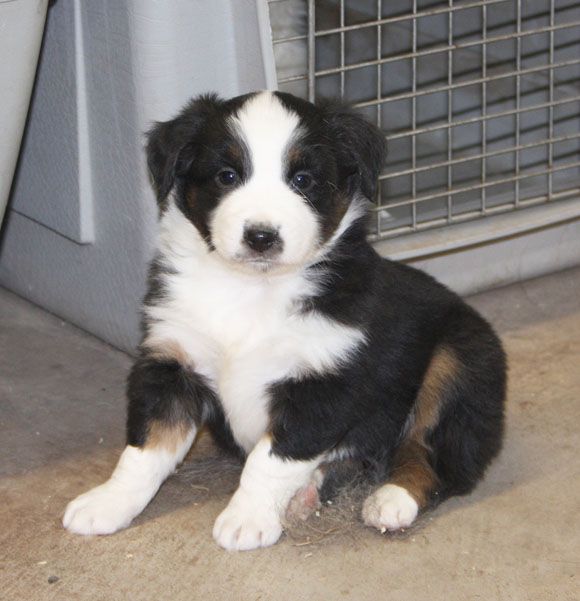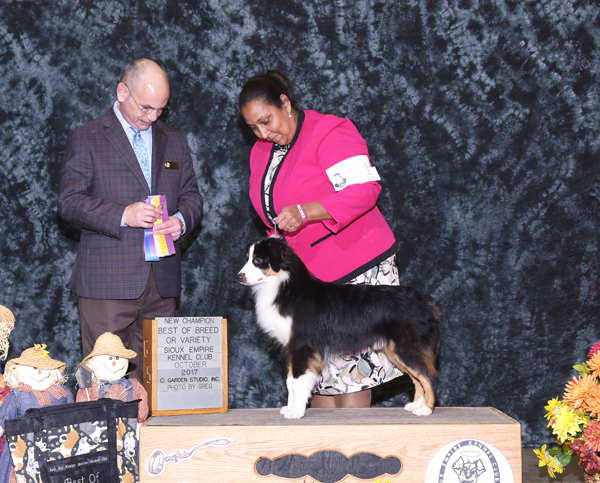 ---
---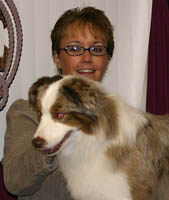 Multi Champion Bluegrass Red Ryder of Brunskill Aussies has earned several coveted conformation titles, quite an accomplishment for a young male of only 21 months of age. Ryder and owner/handler Teri Brunskill have become quite the contenders in the Championship rings with earned titles in NAMASCUSA, IABCA, RARITIES, AND MASCA! Congratulations to this handsome team!!!
---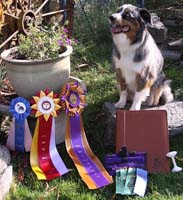 Pictured here is Cheryl Hass's CH Bluegrass Chandrea's Dreamchaser, NA, NAJ, OA, OAJ, AXJ, NAC, NCC, CGC, Delta Certified Pet Partner displaying the multitude of ribbons and prizes that he earned at the 2010 Nationals in the Most Versatile Aussie competition. Congratulations to Cheryl and Chase!
---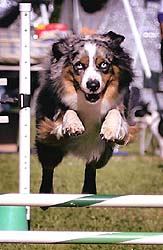 Here is a little blue star by the name of IABCA CH Bluegrass Chandrea's Dreamchaser, NA, NAJ, OA, OAJ, AXJ, NAC, NCC, CGC, Delta Certified Pet Partner. His companion, owner, trainer Cheryl Hass says 'Chase has grown into an extremely well rounded young man. He can tear up an agility course at the Elite level or lay still and help children learn how to read at our Paws For Literacy program. We love our Bluegrass boy!!

www.chandreafarms.com
---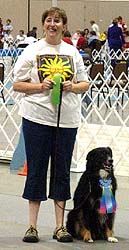 Kris Hammond has worked hard and had lots of fun with her boy Miles. Their work and dedication has paid off as Miles has earned his first obedience title. So Miles is now officially Bluegrass Scampering Man RN. The "RN" represents his title in Rally Novice. Nice work, Kris and Miles. What a good boy!!!
---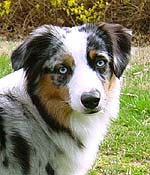 Gary Terrill puts a lot of time and energy into his voluntary position with our Mini Aussie Rescue and Support organization. He is an area coordinator responsible for the rescue activity in seven states. Thank you, Gary, for your good work. In the mean time, he plays and works with his own four minis, including his beautiful daughter of our own Bluegrass. Zoë, whose registered name is Bluegrass Harmony of Heartland, has her CGC and is working on her Delta Society Certificate. Gary says Zoë turns heads where ever they go.
---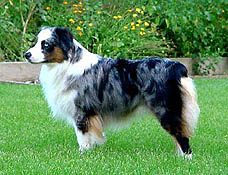 Bill and Angela Ogle have done a superb job with all three of their dogs from Bluegrass Kennels. Here is Champion Bluegrass Solo, who holds titles from ARBA, MASCA, and Rare Heirs. We believe triple Champion Solo to be one of nicest young minis in the country and are so proud to be his breeder!!!
---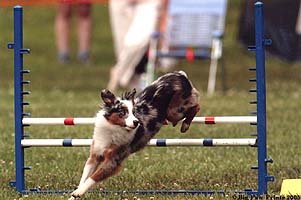 At only 2 1/2 years of age, Bluegrass Maverick is making his mark in the Agility world. With his outgoing personality, incredible athleticism and humorous antics, he makes an impression everywhere he goes!! To date, Maverick has earned the following Agility titles: NAC, NCC, NJC, TN-N,TG-N, WV-N, OAC, OJC, NA and NAJ. In addition to Agility, Maverick stays active swimming, chasing tennis balls and annoying his big sister Scarlett (Cowtown Southern Belle). Watch for Dana Gill and Maverick as they continue to fly around the Agility courses. Bravo Maverick and Dana!!!
---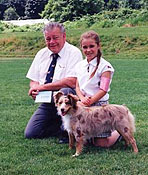 Chelsea Okerman and Cowtown Mariah of Bluegrass at the Seattle ARBA show with the judge after winning Champion Junior Handler. Mariah has also completed her ARBA Championship. Congratulations!!!
---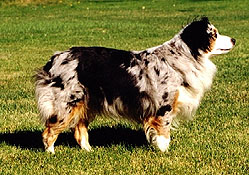 Bluegrass Music, owned by Nancy Okerman of Cowtown Kennels has earned 4 ARBA points and her Canine Good Citizen Award.
---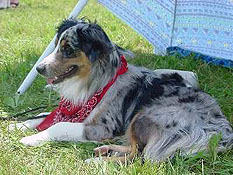 Known as the Ogle's friendly mini ambassador, here is versatile triple Champion Bluegrass Shagg, CGC, HIC owned by Bill and Angela Ogle.

---
| | | |
| --- | --- | --- |
| Dakota Sioux | IABCA National and International Champion Bluegrass Dakota Sioux and IABCA Champion Bluegrass Calamity Jane owned by Dave and Karen Kipp. | Calamity Jane |
---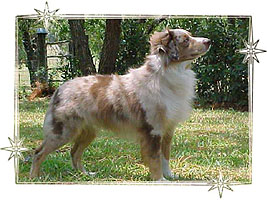 Bluegrass Champagne Irish Creme, owned by Carrie and Kenny Ray of Calvary Kennels. Sincere congratulations to the Rays on Icy's big win at the recent MASCA Specialty show in West Palm Beach, FL. At the first show, Icy took Winner's Dog, Best of Winners, and Best of Breed. At the second show he took Winner's Dog and Best of Opposite Sex.
---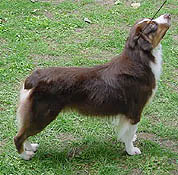 Our congratulations to Cyndi McAleer for titling her red tri male with the help of Karen Kipp. Here is National and International IABCA Champion Bluegrass Kodiac.
---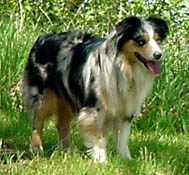 ARBA Champion Bluegrass Banjo is a son of our beloved Bluegrass and lovely Wanna 'be A Fiddler and displays a wonderfully friendly and happy attitude. He is small and compact with a lush and beautiful coat and is a nicely balanced dog. Banjo now lives with Carolyn Pearson in New York state.
---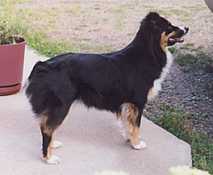 Bluegrass N Jazz is a black tri female by our beloved Bluegrass and out of Taycin's Dulcimer. "Jazzy" completed her ARBA Championship this year and her owners, Judy and Bill Linder, are to be congratulated!!
---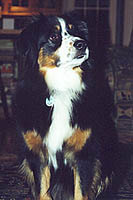 Bluegrass Dillon is the beautiful best friend of Jeannie Fine of Maine. Dillon is out of our Ch Bonnie by our Ch Bluegrass. Dillon's wonderful disposition has easily earned him his Canine Good Citizen Award, his Therapy Dog International Title, and the Delta Society Award.
---
| | | |
| --- | --- | --- |
| Kato | Meet International IABCA Champion Bluegrass Kato, CGC and Bluegrass Fantasia, CGC. These lovely girls live in Zimmerman, MN where they are loved by Warren and Lois Emmons. | Fantasia |
---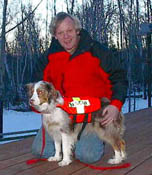 Annette and Jeff Sylvester's Ripple of Grand Marais, MN is training in wilderness rescue and when certified in 2002 will be able to find people in dense underbrush, swamps, heavy forests, and under water. Jeff and Ripple are a team member of Border Country K-9 Search and Rescue. We are SO proud of their worthy endeavor!!
---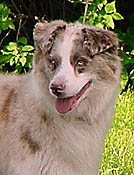 Patchwork's Fancy Bluegrass exhibits some of our breed's finest attributes. Her boundless energy and excitement for life make her a most enjoyable family member. She is an IABCA Champion and lives here with us at Bluegrass Kennels. Her offspring are true to Aussie type and delightful to have as show dogs and family members.
---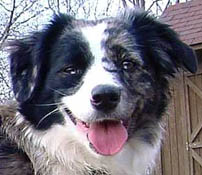 Fast as lightning at agility and a non-stop herding machine on livestock, Skye is a wonder in the world of Miniature Australian Shepherds! Skye's accomplishments include her Herding Instinct Certification, Canine Good Citizen Award, and her ARBA Championship. More to come from CH Bluegrass Lullabye Skye - and she'll be sure to tell you about it! Skye is owned by Angela Ogle.
---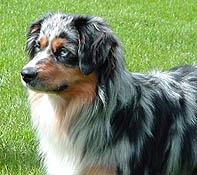 We proudly congratulate ARBA MASTER Champion and IABCA International Champion Bluegrass' Sagonige Gili and his family Tom and Betsy Hyer of Custer, SD. Gili is an own son of our Bonnie and Bluegrass and a full brother to CH Bluegrass Legacy, CH Bluegrass Solo, CH Bluegrass Kodiac, CH Bluegrass Fantasia, CH Bluegrass Jubilee and CH Bluegrass Icy. Gili is a gentle, loving dog, a frisbee nut, and a wonderful friend.
---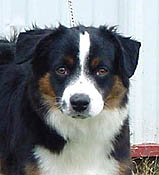 IABCA Puppy Champion Bluegrass Lakhota Brave Bear is a son of our beloved Bluegrass and Bluegrass Melody of Patchwork. Impressing the judges at his first show, he received comments like "very showy", "very promising puppy", "lovely outline" and "typey and appealing". We think so too! Lakhota is owned by Carla and Ken Lewis of Calhan, Co. Congratulations!
---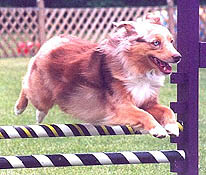 Dana Gill has done such good things with her young Scarlett. Scarlett is a lovely daughter of our Bluegrass and Fiddler. She has earned her Canine Good Citizen certificate and is now starting agility and loves it. SEE SCARLETT SAIL!!
---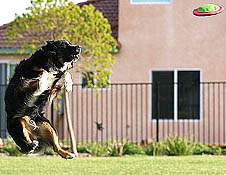 Andi and Mary in California report that Dodger is a fabulous frisbee dog and has recently passed his Canine Good Citizen test with flying colors. Dodger has also been awarded his Delta Society Therapy Dog certificate and will be visiting patients soon. Congratulations to Dodger on his good work!!
---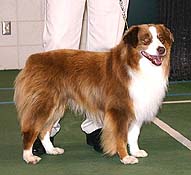 Kellie Barry's good work has paid off with many awards and accolades for Champion Bluegrass Elijah, her five-year-old red tri Bluegrass and Fancy son. In just a few shows Elijah has earned 15 Best of Breeds, a Best In Show Rare Breed, 4 Group 1s, a Bronze in the Gold Cup and his National and International titles with IABCA. Elijah works and plays in agility, helps Kellie teach obedience classes, visits nursing homes and schools, and is an all-around good boy and best friend to the Barry family.
---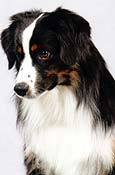 Meet new ARBA Champion Maple Lanes Frank the Tank, sired by our Bluegrass. His owner Kris is so proud of his 2005 summer of showing where he earned 11 Winner's Dogs, 5 Best of Breeds, and 1 Res. Best in Show and his ARBA Championship. Frank earned all this in just 3 shows - quite an accomplishment!

Image courtesy of Thomas Photography
---
Photos courtesy of each owner unless otherwise specified.