NAME: AKC CHAMPION WOODRIDGE AND BLUEGRASS DURANGO CGC TKN
SIRE: INTERNATIONAL CHAMPION BLUEGRASS FOREVER MY GIRL (DAKOTA)
DAM: AKC BRONZE CHAMPION ASHLANDS ANYTHING GOES AT WOODRIDGE (GOER)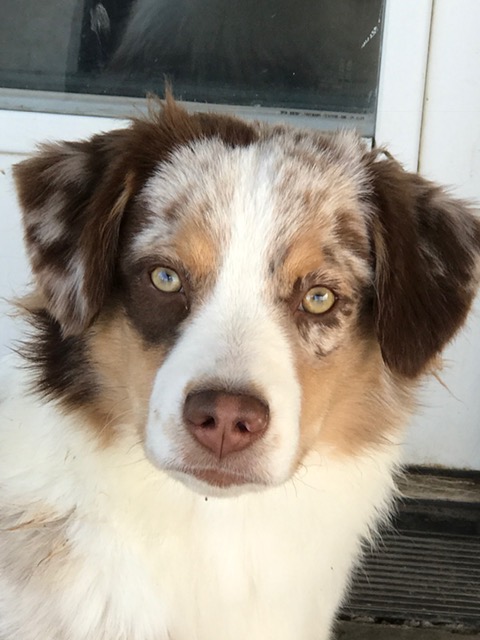 DURANGO is one of the sweetest and easiest dogs to be around. He loves all he meets, including all dogs and especially children! DURANGO achieved his AKC Championship with very limited showing at the age of 20 months. We can thank his grandsire CHAMPION BLUEGRASS BOOMERANG, among others, for bestowing his handsome looks on DURANGO. With his fluid movement, gorgeous head and nice neck, we look forward to seeing how DURANGO will contribute to the future of our breed.

We at BLUEGRASS KENNELS extend our sincere gratitude to Sheila and Gary Hoskins at WOODRIDGE for breeding, raising, and showing this handsome boy to his AKC CHAMPIONSHIP. Their attention to his upbringing has contributed to his fine demeanor and attitude.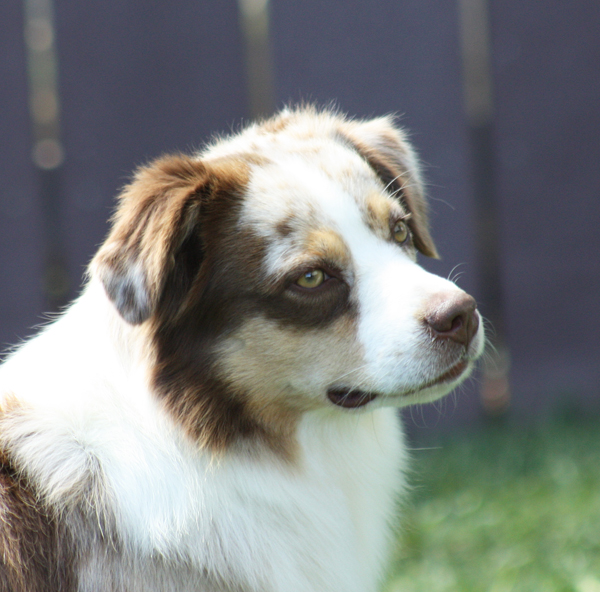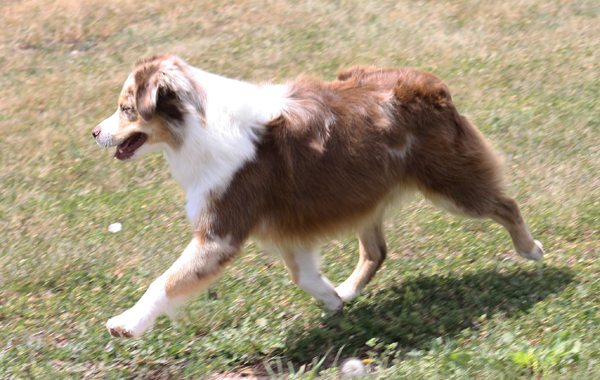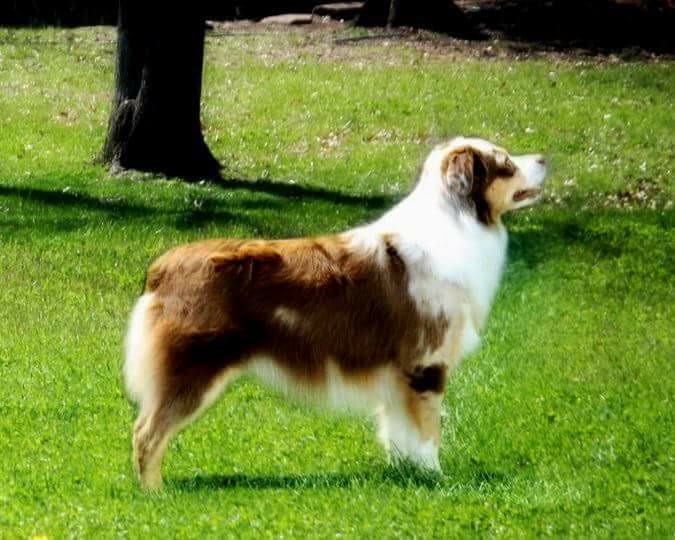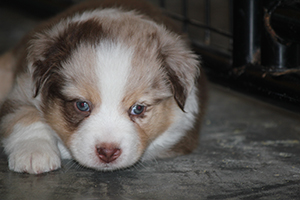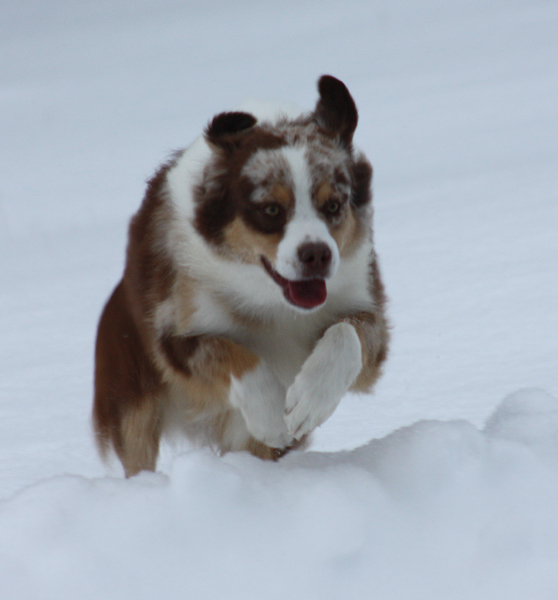 ---
NAME: BLUEGRASS BLING
SIRE: PATCHWORKS WORLD TRAVELER
DAM: PEACEFUL ACRES BLUEGRASS MUSIC

Born right here at BLUEGRASS KENNELS, we are proud to introduce you to teeny weeny BLUEGRASS BLING. This little girl will head to the show ring to impress her judges with her attitude, versatility, and cuteness. BLING is friendly to all and seems to know that little things mean a lot!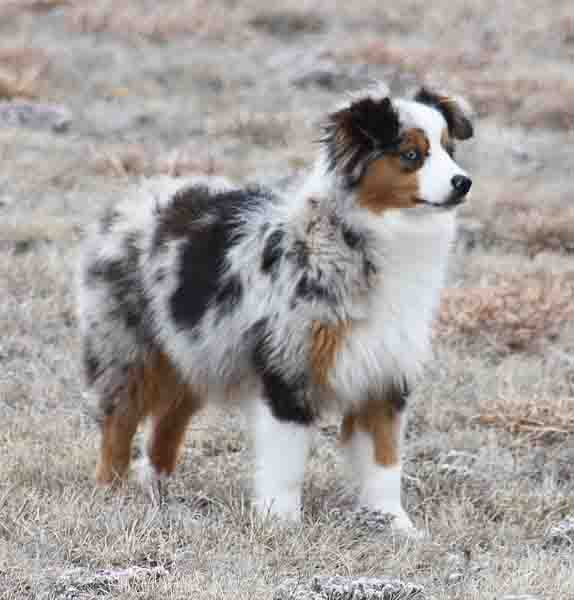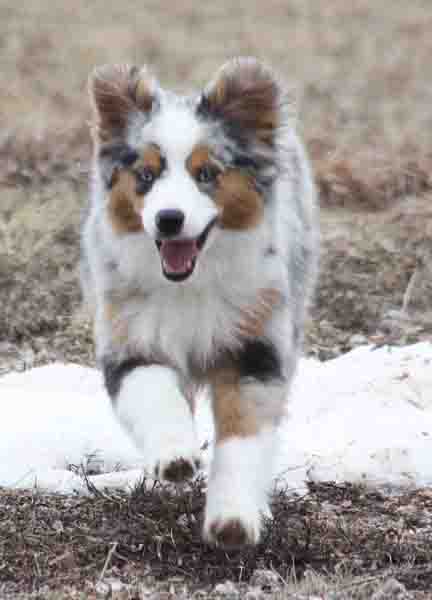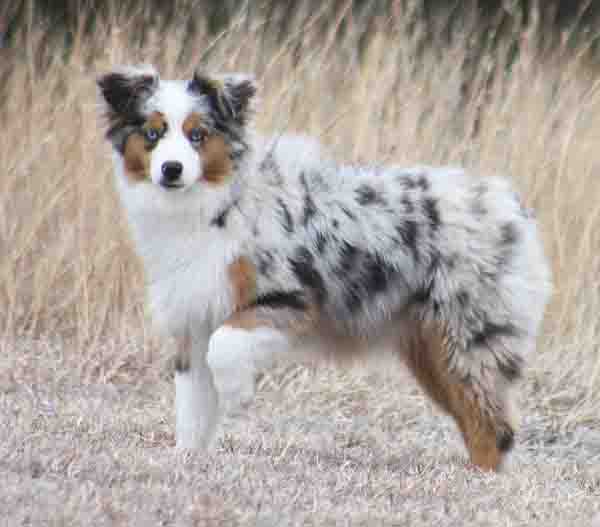 ---
NAME: PEACEFUL ACRES BLUEGRASS MUSIC
SIRE: PEACEFUL ACRES SPARKED A KNOCK-OUT CM2
DAM: PEACEFUL ACRES NO WORRIN ME

BLUEGRASS KENNELS is pleased to introduce a wee little girl to our program. MUSIC stands 14" tall and pretty much fits into any place that can hold 18 pounds! By far, she is our smallest Miniature American Shepherd. Our thanks goes to breeder Laurel Mathews for sending us this tiny treasure. And MUSIC is as sweet and affectionate as she is cute!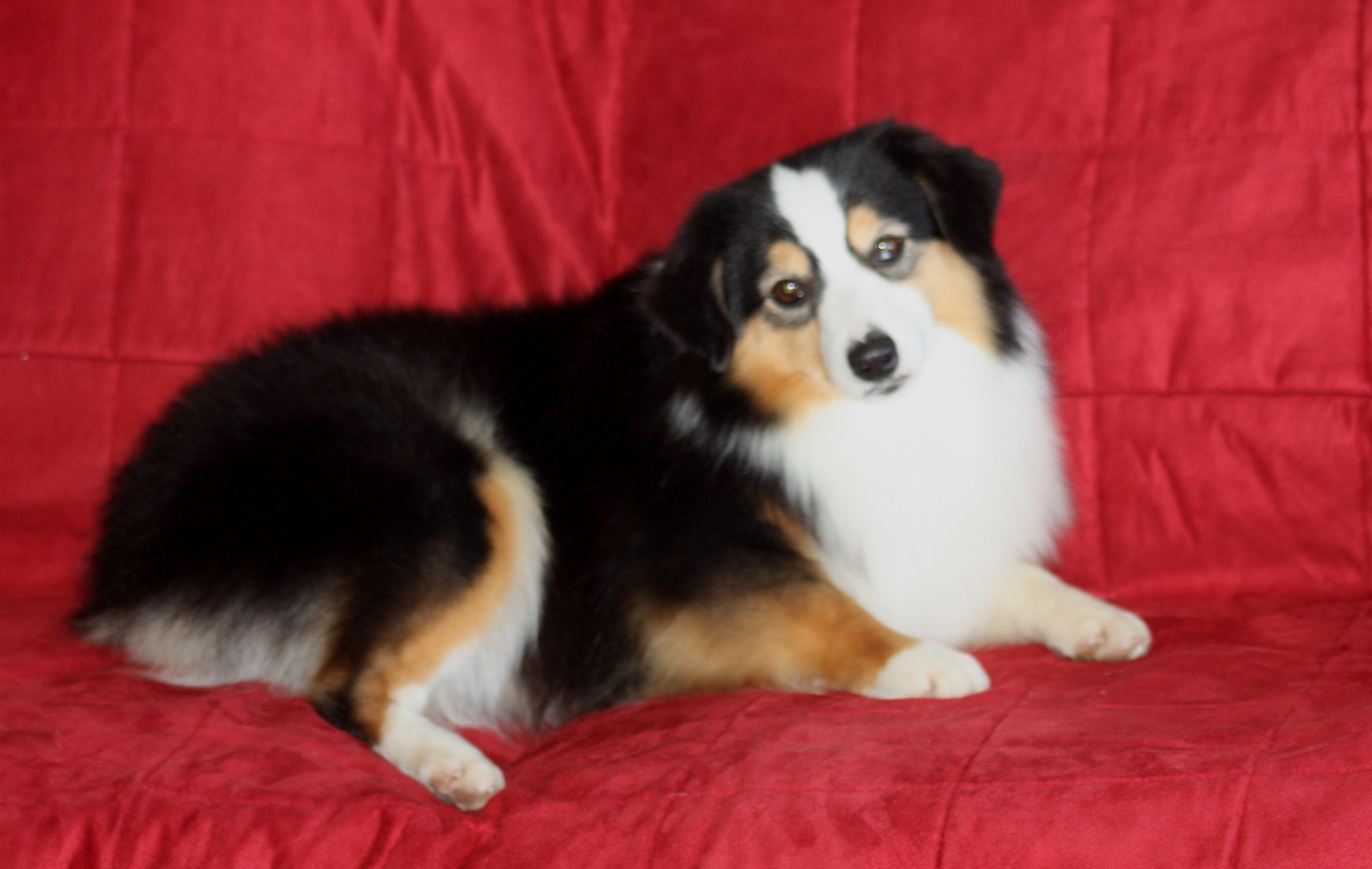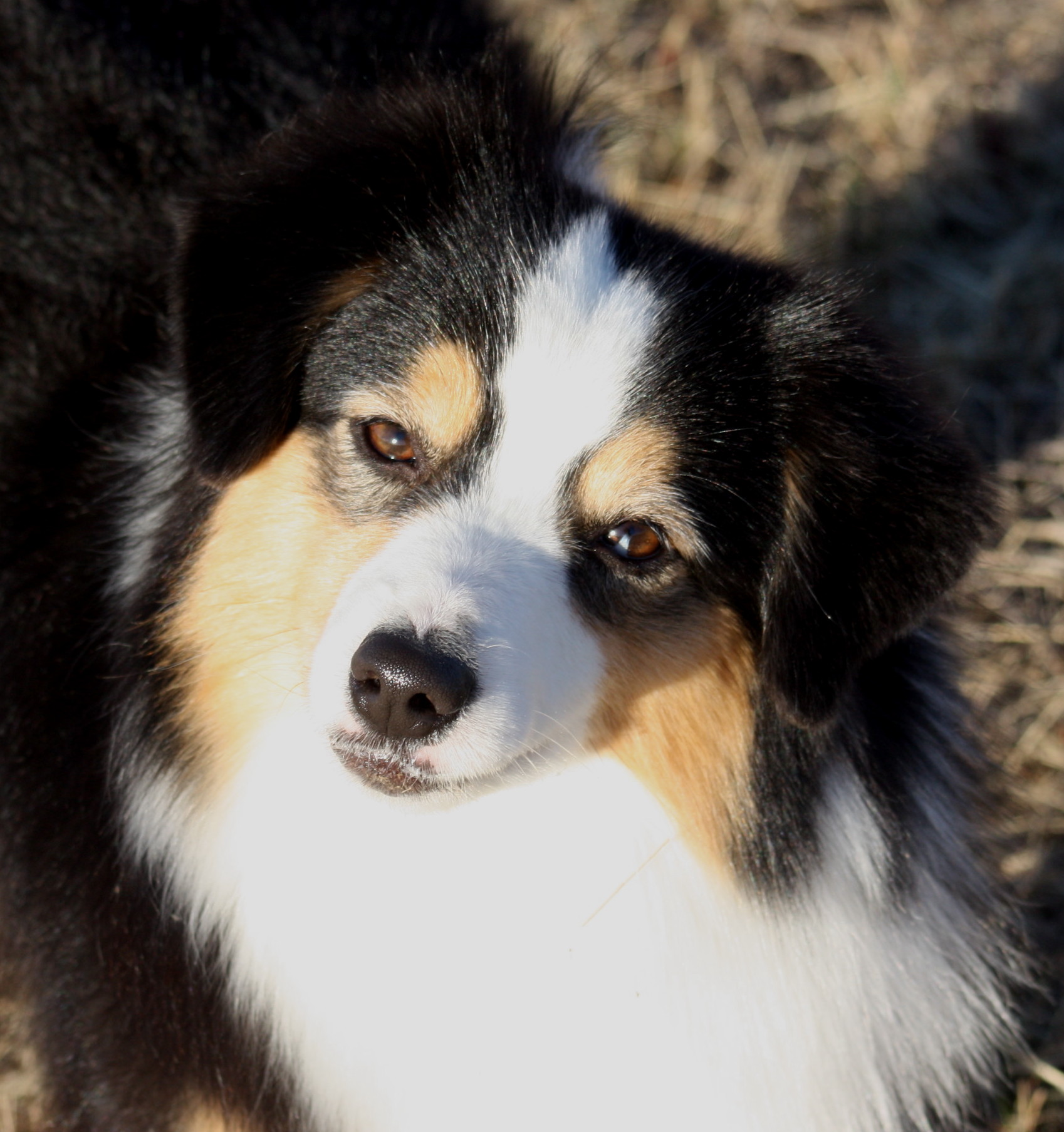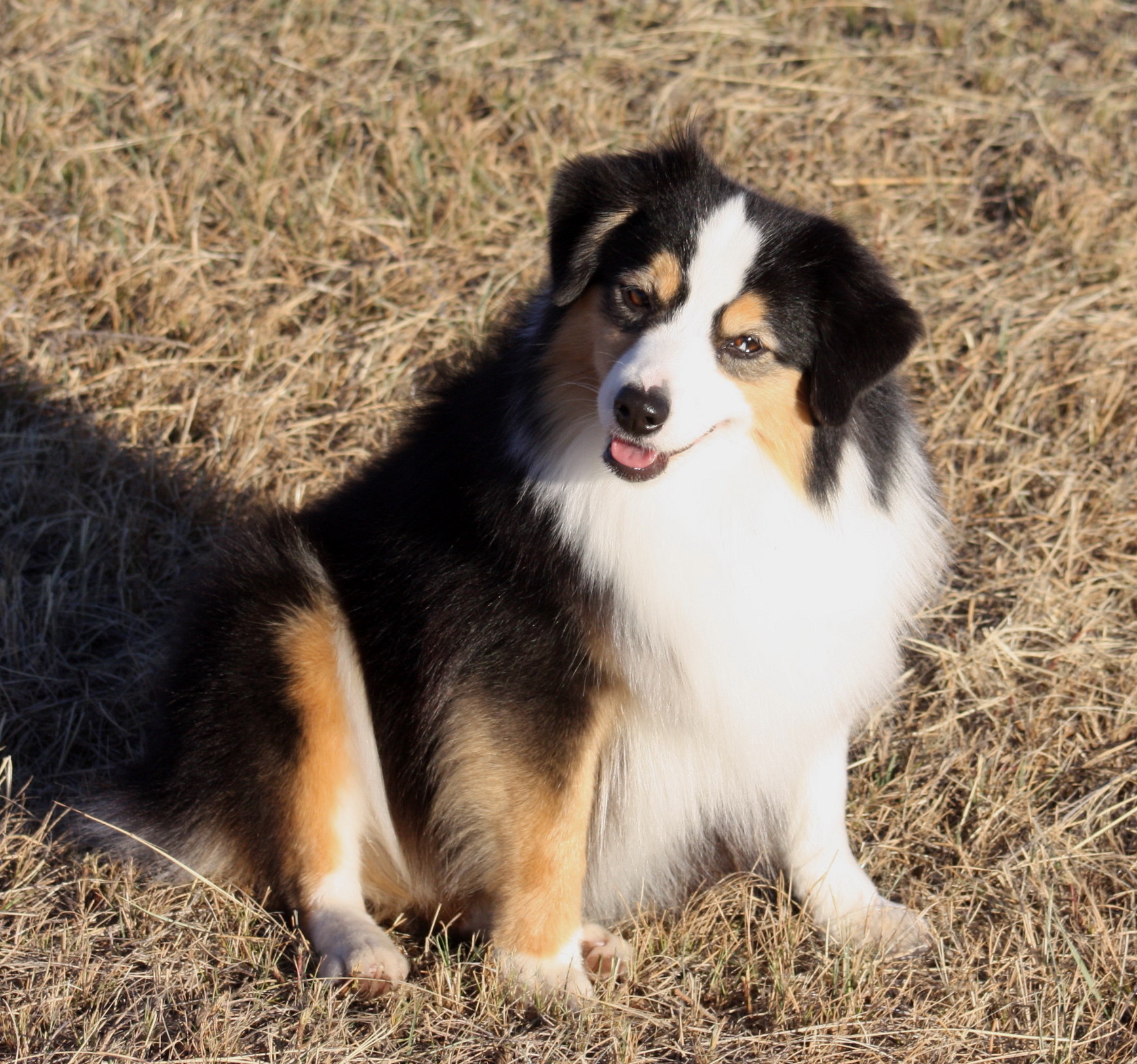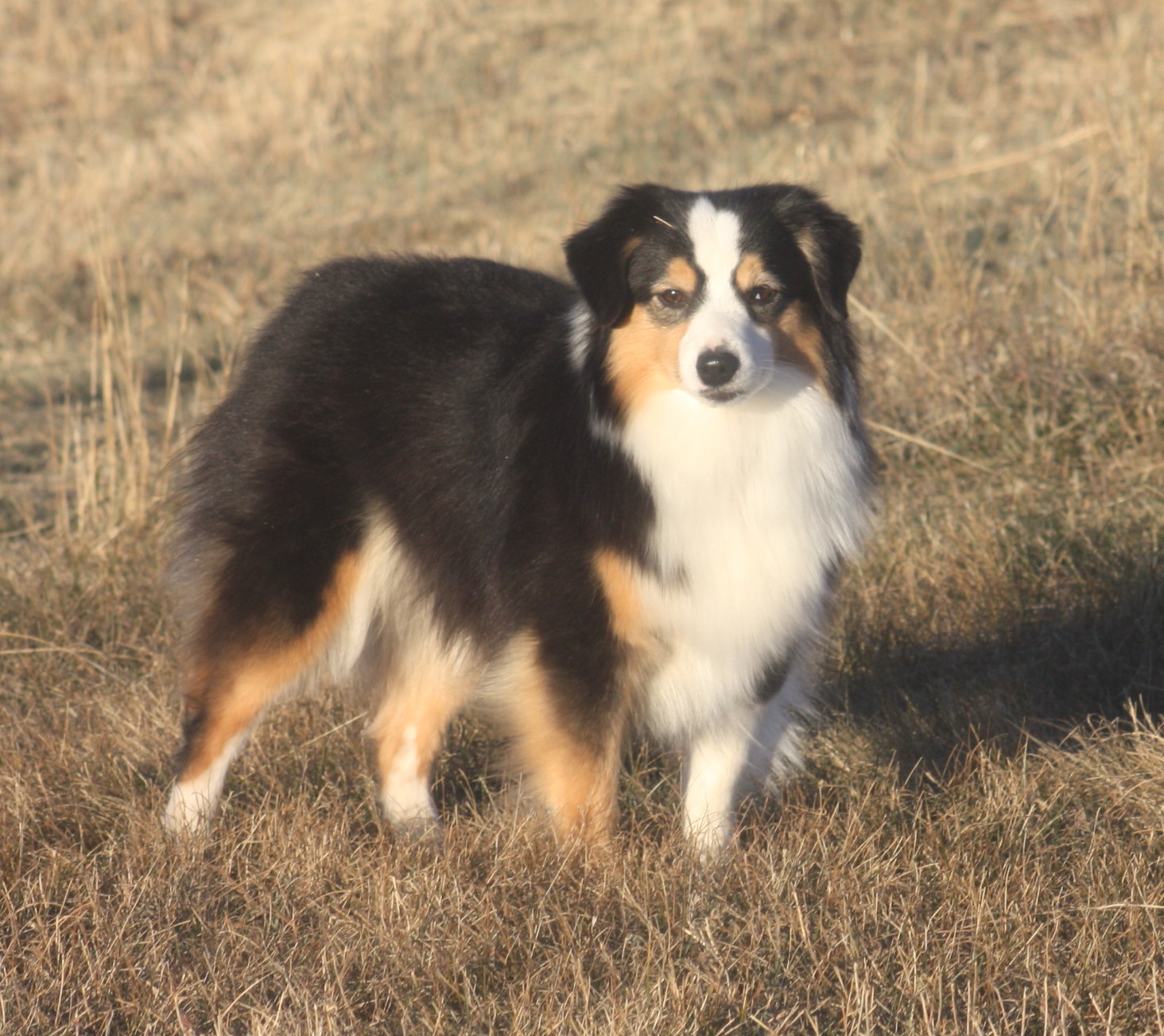 ---
---
NAME: BLUEGRASS INCREDIBLE JOURNEY WITH CHANDREA CGC TKN
SIRE: MULTI CHAMPION Bluegrass Encore of Heartland, CGC
DAM: CHAMPION Chandrea's Bluegrass Jamboree of Heartland, PREMIER 2010 NATIONALS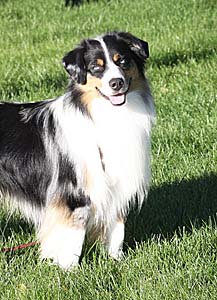 This stunningly handsome MINIATURE AMERICAN SHEPHERD boy is nick-named QUEST and he was born right here at Bluegrass Kennels. We could not have asked for a finer result from 20 years of careful and selective breeding. Quest is not only striking to look at but has a friendly, affectionate, and sometimes goofy demeanor. Cheryl Hass chose him from Jamboree's and Encore's litter when he was born and he has been at Chandrea Farms for his 2 1/2 years. Cheryl's ability to "start" a puppy is truly exceptional and we know that Quest's wonderful attitude has much to do with Cheryl's training talents. Now Quest has come home to Bluegrass Kennels for awhile where he will be entertaining us, romancing the girls, and siring the next generations of Bluegrass stars. Chandrea Farms in Washington and Bluegrass Kennels in South Dakota are co-owning Quest.

Please read about Quest's dam and sire below on this page. Both his parents are true to the type of MINIATURE AMERICAN SHEPHERD that we have endeavored to breed in our years of involvement with the breed. Little wonder that Quest has the type, beauty, and disposition that makes a talented and wonderful family friend.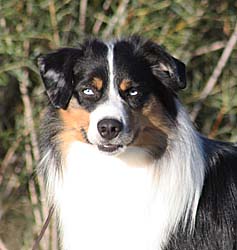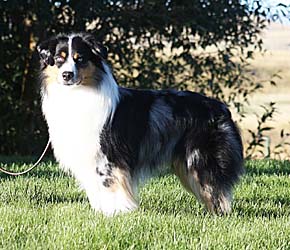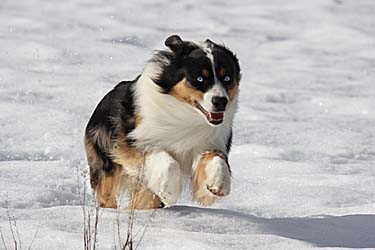 ---
---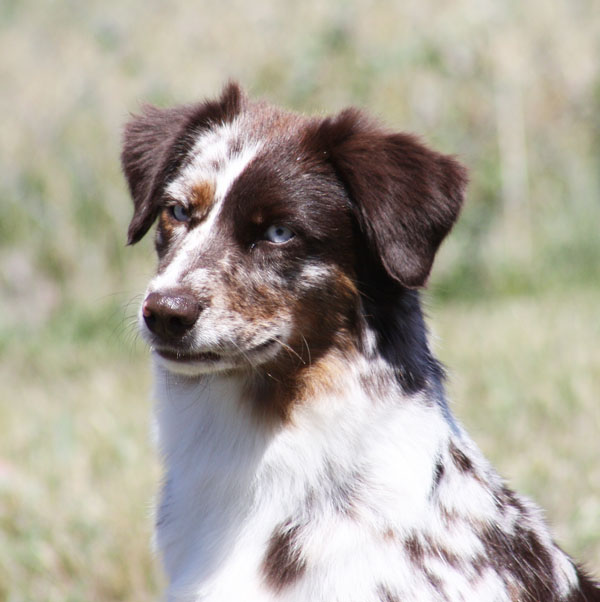 NAME: CHANDREAS RED WHITE AND BLUEGRASS
SIRE: CHANDREAS RAISING CAIN
DAM: CHANDREA'S EBOOK
"HONOR" is a lovely dark mahogany red merle girl with a unique pedigree that is the culmination of years of carefully planned breeding. Her lines are an unusual blend of some of the top conformation Miniature Americans in the Country, with old-time working line Mistretta Australian Shepherds on the top side. This stunning combination produces correct dogs with work ethic and the ability to 'Do It All'. Her temperament is amendable to being a most loyal family member or to hit the ring to perform in style. Her offspring should present true Aussie type in a compact package. HONOR was bred and raised by Cheryl Hass at CHANDREA FARMS and now lives at BLUEGRASS KENNELS.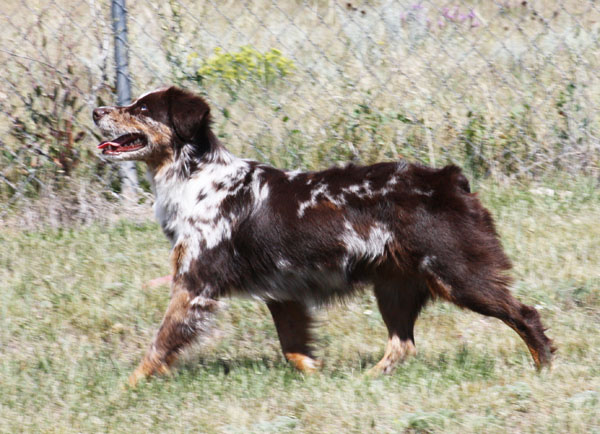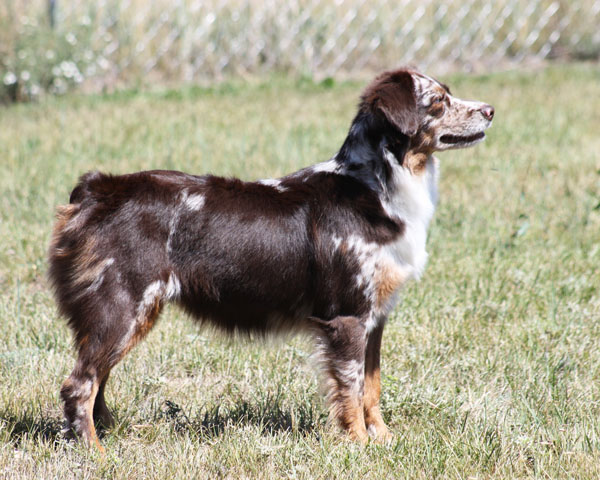 ---
---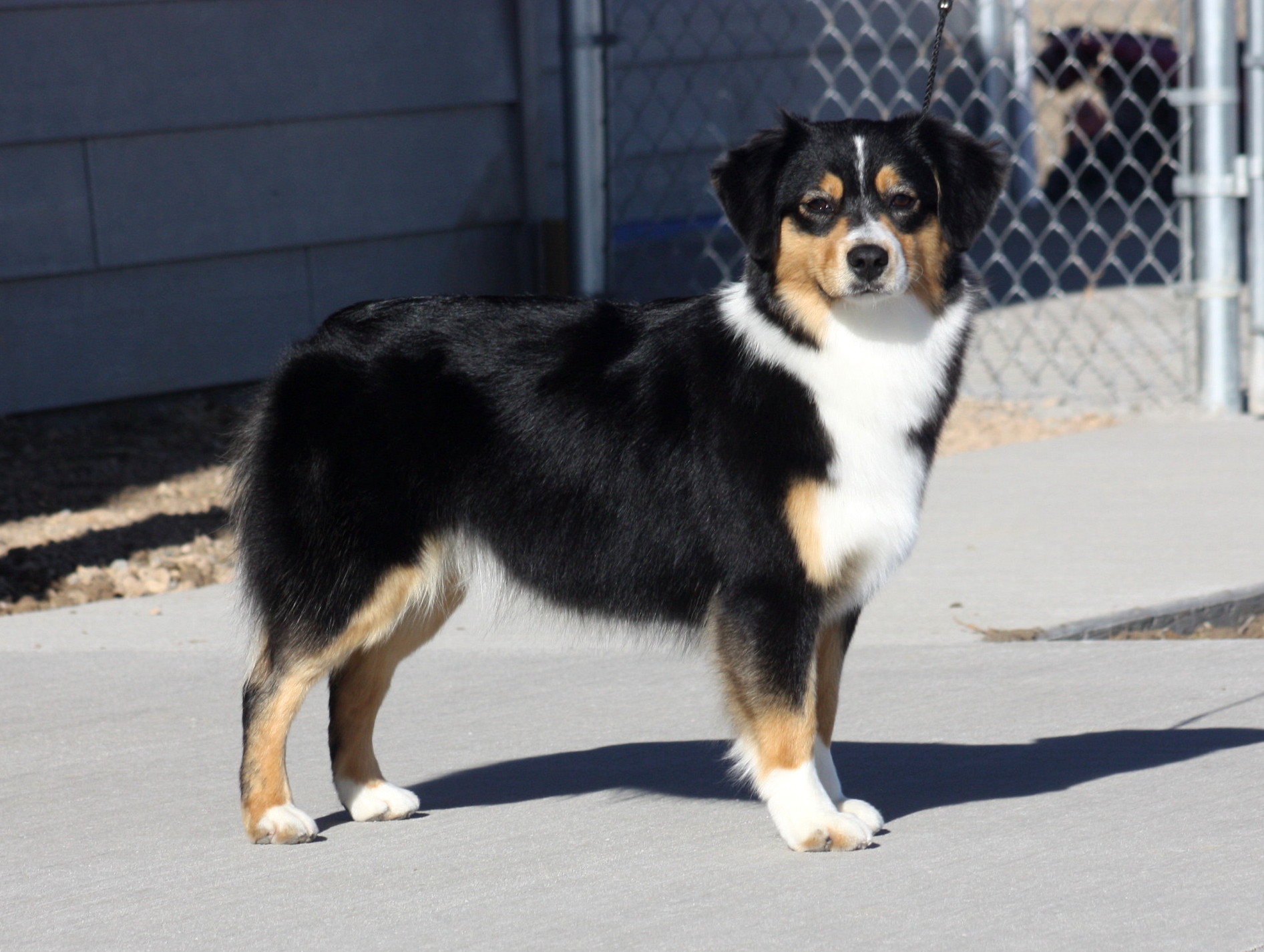 NAME: BLUEGRASS CHARM
SIRE: AKC CHAMPION WOODRIDGE AND BLUEGRASS DURANGO CGC TKN
DAM: BLUEGRASS DIXIE OF ARGYLE
CHARM is a combination of two of our favorite lines, and we are pleased beyond compare with how she is maturing. In these photos she is one year old. We look forward to a show career for CHARM in 2021. A daughter of our handsome DURANGO and a granddaughter of the lovely JAMBOREE, CHARM brings beauty, friendliness, and smiles to our lives.