MINIATURE AMERICAN SHEPHERD CLUB OF THE USA
Member of the American Kennel Club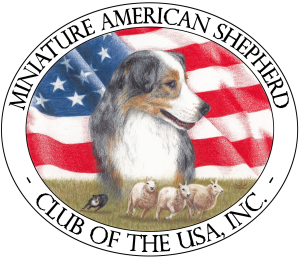 The MINIATURE AMERICAN SHEPHERD CLUB OF THE USA or "MASCUSA" was selected in May of 2011 as the parent club of the MINIATURE AMERICAN SHEPHERD for the American Kennel Club. The breed was formed by a split of the Australian Shepherd breed in AKC and dogs previously known as Miniature Australian Shepherds and/or North American Shepherds. MASCUSA was originally known as the Miniature Australian Shepherd Club and was the first parent club for the Mini Aussies, organized in 1990. MASCUSA represents AKC MINIATURE AMERICAN SHEPHERD breeders and owners across America and around the world. We are dedicated to promoting, preserving, and protecting our dogs and their owners and we promote sound, responsible breeding practices dedicated to the ongoing improvement of our breed.
The MINIATURE AMERICAN SHEPHERD is a small size herding dog that originated in the United States. Sizes range from 13" to 17" for females and 14" to 18" for males. They weigh approximately 18 to 38 pounds at maturity. These dogs are compact, well balanced, athletic, alert, intelligent, higher energy, and versatile.
Their temperament is sensitive, easily trained, devoted, and affectionate and they will go to great lengths to please their families. They are natural guardians of their home and are usually suspicious of strangers. With their many attributes you will find this amazingly versatile dog in the show ring, obedience ring, agility courses, working small stock and being used as therapy dogs and they make exceptional companions.
---
OUR FOUNDATION SIRES AND DAMS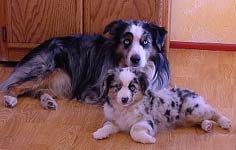 NAME: ARBA CHAMPION PATCHWORK'S BLUEGRASS
SIRE: Wanna'be's Attractive Prospect
DAM: Patchwork's Nicole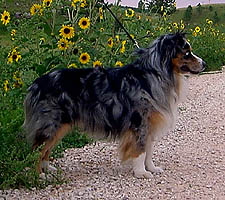 BLUEGRASS came to us as a puppy in the winter of 1994 and was, in our eyes, the most beautiful puppy we had ever seen. He became our foundation sire and our best friend. BLUEGRASS represented a fine example of the breed, was a dazzling blue merle with blue eyes, a balanced 17.5" tall and had a wonderfully sensitive and intelligent manner. He earned the title of conformation Champion with the American Rare Breed Associate at the age of two years. BLUEGRASS has set an impressive standard of what a fine sire should be. Bred to females of various bloodlines, he consistently produced sons and daughters of outstanding type and disposition, earning countless titles from coast to coast in different rare breed venues. His grandsons and granddaughters, and more recently his great grand babies are earning honors and successes in many venues including Canine Good Citizen, herding, conformation, agility, fly ball, disc dog, rally-o, and The Delta Society. His positive influence on the breed should continue well into the future. These dogs have the disposition and attitude to be your friend and devoted companion for life, as BLUEGRASS was to us for 14 years.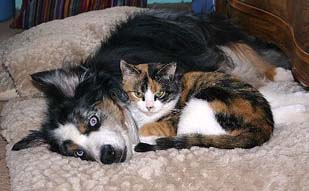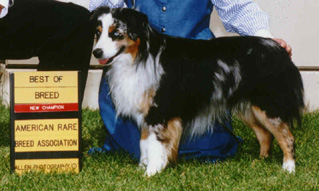 NAME: NAMASCUSA AND IABCA CHAMPION CHANDREA'S BLUEGRASS JAMBOREE OF HEARTLAND
SIRE: NAMASCUSA, MASCA, AND IABCA CHAMPION Ridgestar Vantage Point
DAM: NAMASCUSA AND IABCA CHAMPION My Elusive Dream of Patchwork, CGC, Delta Certified Pet Partner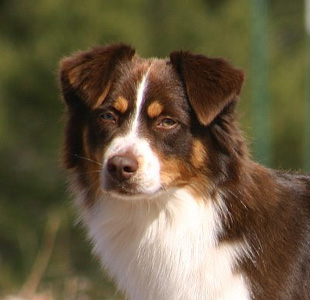 Parents and grandparents of our lovely red tri bitch Jamboree have some of the most outstanding characteristics of this wonderful and exciting breed! Little wonder that Jamboree displays great classic structure, terrific focus, and enviable overall balance. And she is beautiful!!!! Thank you a hundred times to Cheryl Hass at Chandrea Farms for sending us Jamboree. At the age of 9 months she was awarded Winner's Bitch over 27 very nice females of all ages. And her biggest accomplishment was at the 2010 Nationals in Oklahoma where she was chosen First Premier Bitch in a huge class of 25 Champions, both genders. That is such an honor! Jamboree has contributed sons and daughters who have claimed the hearts of their owners and impressed judges around the country. She is retired now and lives a relaxed life with us and is as beautiful as ever!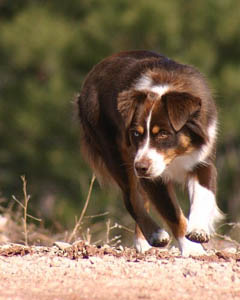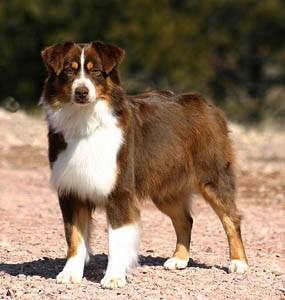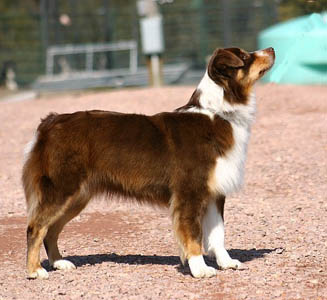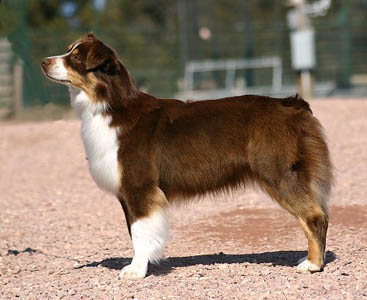 NAME: ARBA MASTER, RARITIES, NAMASCUSA and IABCA CHAMPION
BLUEGRASS ENCORE OF HEARTLAND, CGC
SIRE: ARBA CH Patchwork's Bluegrass
DAM: IABCA CH Linderland's Mar-A-Lago Bay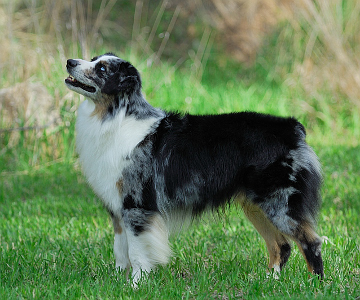 It is exceeding difficult to say good bye to these wonderful friends of ours. We lost BLUEGRASS ENCORE OF HEARTLAND in February of 2016. In his short 11.75 years Encore became the following:
ARBA Champion
ARBA Master Champion
NAMASCUSA Champion
Rarities Champion
IABCA Champion
AKC Canine Good Citizen Award
While we were more than proud of his accomplishments, we were way more taken by his accomplishment of stepping into his sire Bluegrass's place of winning our hearts and becoming such a loyal and beautiful friend and family member. He was friends will all, large and small, young and old, a gentle lover, with the added bonus of siring some very wonderful and talented sons and daughters.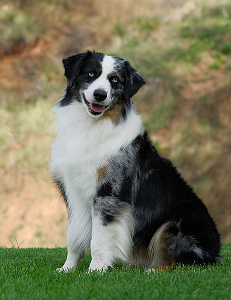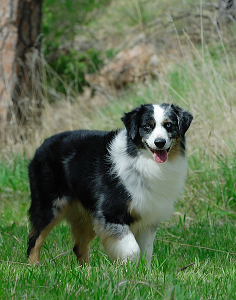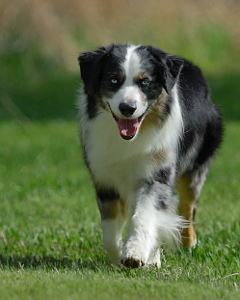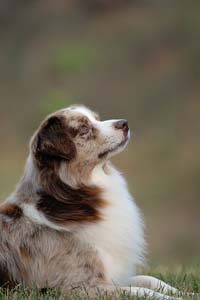 NAME: Multi Champion, BIS, BLUEGRASS BOOMERANG OF CHANDREA, CGC, RN, RA, BN
SIRE: Champion Cowtown Rodeo of Patchwork
DAM: Champion Patchworks Fancy Bluegrass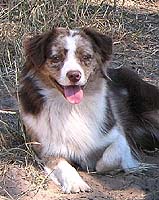 BOOMERANG was a handsome dark red merle boy whom we bred here at Bluegrass Kennels. He was a wonderful example of breed type with all the attitude and characteristics for which we search. He was brave, tenacious, biddable and incredibly intelligent and athletic........and simply one of the most fun and entertaining dogs we have known. BOOMERANG completed three championships in three different show venues, achieved his Canine Good Citizen Award, and went on to compete with Lucinda Schuft and earned three AKC titles in performance. In addition, at the 2011 Nationals BOOMERANG placed 4th in the Most Versatile Aussie competition with Lucinda. It is a sad understatement to say that we miss this lovely boy!"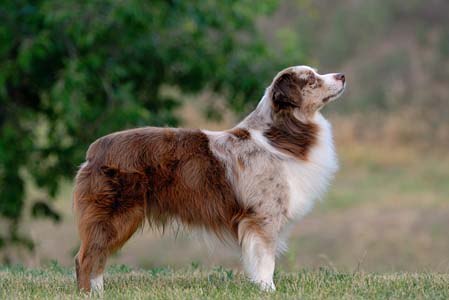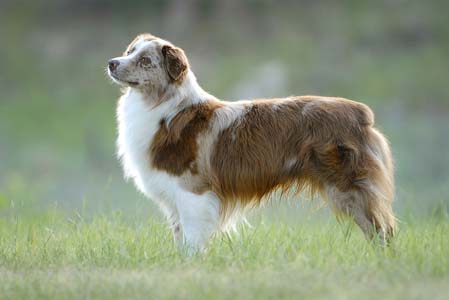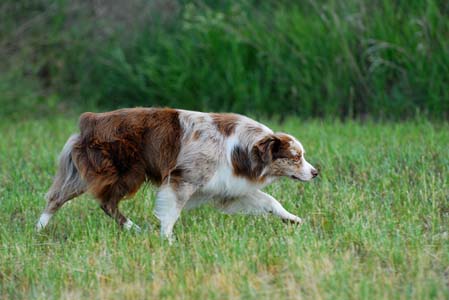 photos courtesy of Lon Sharp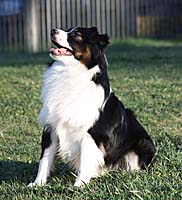 NAME: MAYES MERCYME TURBO JETT
SIRE: NATIONAL/INTERNATIONAL CHAMPION MercyMe Mathews Good Time Charlie
DAM: CHAMPION Mayes I Like My Chocolate Dutch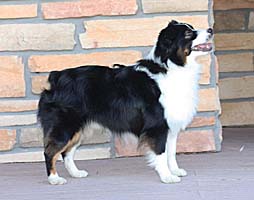 Our little stud dog TURBO kept us entertained and laughing for 9 fun years. He has helped us in his ability to sire offspring who stay in size with some of our larger girls and his main contribution has been in passing on to his puppies an attitude of exuberance, love of all people, and friendliness beyond belief. He is biddable, happy, and is a joy to live with. His excellent health clearances in all areas also was an important contribution to his offspring. TURBO is now retired and is living with a family who dearly love and care for him. And we think TURBO deserves nothing less.